April 13, 2019 – The Kennedys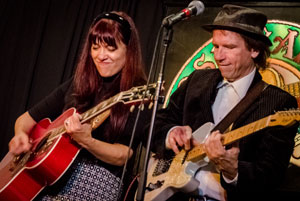 Two of our favorites make a return to the Garden, helping us to celebrate our 30th season! Pete and Maura Kennedy, both East Coast natives, met in Austin, Texas, joined forces with Nanci Griffith's Blue Moon Orchestra for a couple of years, and set out on a road that, for two decades, has led them not only west but all over the US and the UK many times. This year, they celebrate their twentieth anniversary both as a band and a married couple. Rather than indulge in a nostalgic look backward, they've taken Dylan's dictum "don't look back" to heart; writing and recording forty new songs.
If you don't see the box above to purchase $16 advance tickets, click here to buy on EventBrite.
Tickets at door: $20
2015 sees a Maura solo CD, a Pete solo CD, and the release of "West," an instant classic Kennedys duo set that seamlessly weaves their influences over the last two decades; Buddy Holly style roots, the tuneful cadences of the Everly Brothers, and the ringing 12-string jangle of the early Byrds, interspersed with darker moments that recall British folk rock a la Fairport Convention.
Ultimately, Pete and Maura knit these disparate threads into a coat of many colors that sounds like a "best of The Kennedys," but is in reality an all-new collection of songs. The road west is central to the American mythos; it's the search for musical roots and the fulfillment of a personal American dream that takes shape in songs. Two decades on, The Kennedys are hitting a songwriting high point, and from that point they follow the well-worn American path West.