Oct. 21, 2023 – Alastair Moock with Chandler Travis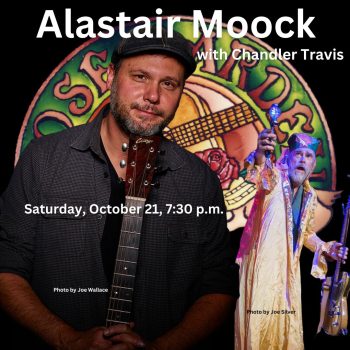 Alastair Moock is a Grammy-nominated singer-songwriter recognized for his versatile performances and social justice advocacy.
If you don't see the box above to purchase $20 advance tickets, click here to buy on EventBrite.
Tickets at door: $25
Alastair Moock began his musical journey in 1995 when he relocated to the folk epicenter of Boston. In a short span, he cemented his position as a fixture in the city's thriving music scene. He has performed in venues as large as the Newport Folk Festival, sharing the limelight with musical legends like Arlo Guthrie and Taj Mahal, and last performed at the Rose Garden in 2008. The Boston Globe hailed him as a standout songwriter, with his tunes striking a chord with listeners far and wide.
In 2006, Moock's career took a heartwarming turn toward family music after the birth of his twins. This shift resulted in a series of highly-praised albums, a testament to his versatility and depth as a musician. Among his many accolades, including a 2013 Grammy nomination. But his contributions extend beyond music. A steadfast advocate for social justice, Moock has channeled his passion into pivotal initiatives. He co-founded The Opening Doors Project, aiming to push forward racial conversations through the powerful medium of art.
Chandler Travis, meanwhile, embarked on his musical voyage in the 1970s. Making his mark as part of the duo, Travis Shook and the Club Wow, he garnered national attention and shared the stage with luminaries like George Carlin and Bonnie Raitt. Over the years, Travis's unique fusion of humor and soulful songwriting found expression in a range of musical endeavors, from the Incredible Casuals to the Chandler Travis Philharmonic, solidifying his legacy in the world of music.