Oct. 21, 2023 – Alastair Moock with Chandler Travis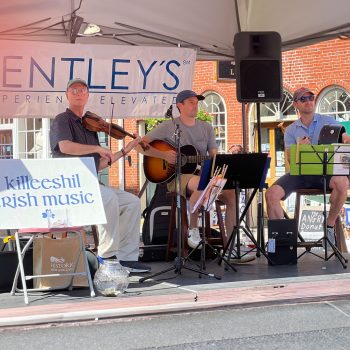 Hailing from the greater Boston area, the Irish trio Killeeshil, named for a beautiful region of Ulster, features three experienced musicians. John Schnelle, Michael Hamill, and Harry Wagg have been playing and singing Irish music together for two decades.
If you don't see the box above to purchase $20 advance tickets, click here to buy on EventBrite.
Tickets at door: $25
Get ready for an unforgettable evening of Irish music and lively entertainment as Killeeshil, a talented Irish trio hailing from the greater Boston area, graces the stage at the Rose Garden on March 16. Named after the enchanting region of Ulster, Killeeshil brings to life the rich and vibrant traditions of Irish music, captivating audiences with their exceptional performances. Comprising three seasoned musicians, John Schnelle (concertina & vocals), Michael Hamill, and Harry Wagg, this group has been delighting crowds for two decades with their expertise and passion for Irish music.
A Musical Journey to the Heart of Ireland
Killeeshil's repertoire is a delightful blend of various elements of Irish music, ensuring a captivating experience for everyone in attendance. From lively jigs and reels that will set your feet tapping to slow and beautiful airs that tug at your heartstrings, this band offers a diverse range of musical experiences. In addition to instrumental pieces, they also offer fun singalong songs that will make you feel like you're in a cozy Irish pub. As proud residents of the eastern half of Massachusetts, with greater Boston as their home base, Killeeshil has become a beloved fixture in the local music scene, and their upcoming performance at the Rose Garden promises to be a true celebration of Irish culture and tradition.