Jan. 20, 2024 – Lisa Bastoni with Sean Staples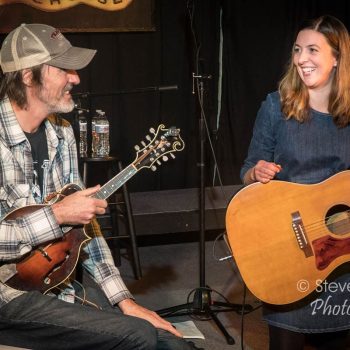 We welcome back singer-songwriter Lisa Bastoni with mandolinist and producer Sean Staples.
If you don't see the box above to purchase $20 advance tickets, click here to buy on EventBrite.
Tickets at door: $25
Lisa Bastoni & Sean Staples
We are welcoming back Lisa Bastoni and Sean Staples. 
Award-winning singer-songwriter Lisa Bastoni and multi-instrumentalist and producer Sean Staples return to the Rose Garden Coffeehouse on Jan. 20, 2024 at 7:30 p.m. to kick off the second half of its 2023-2024 season.
Bastoni, a Northampton native, is a Kerville Folk Festival New Folk favorite in addition to being an accomplished visual artist, teacher, and mother.
"Ever since we heard Lisa Bastoni's poetic words, clever turns of phrase, and the way she takes over the stage, we have fallen in love with her music," says Stephen Ide, artistic director of the Rose Garden Coffeehouse. "With Sean Staples on mandolin and adding vocals, a certain magic happens that has to be heard to be believed. We're thrilled to have her back in the Garden."
Bastoni's recent album, "Backyard Birds," has been making waves in the music industry, with Americana-UK describing her songs as "bright, attractive and wonderfully poetic" and likening them to the works of renowned artists like Patty Griffin.
Staples, a multi-instrumentalist and producer, is a fixture on the Boston/Cambridge roots/folk scene. He has performed with Lori McKenna, Dar Williams, Regina Spektor, The Secret Sisters, Teddy Thompson, Rose Cousins, Mark Erelli, Larry Campbell & Teresa Williams, and many more. Staples has also produced several albums, including Bastoni's "Backyard Birds."
The Rose Garden shows will be starting at a new time this season, 7:30 p.m., with doors opening at 7. For tickets and more information: https://bit.ly/rg24bastoni.
Cloudbelly - Whistling lyric video (Lisa Bastoni)
Edie Carey - Rise lyric video (Lisa Bastoni)
Paper Boats lyrics video (Sean Staples)
Lisa Bastoni at the Rose Garden
"Never Gone To You" - Lisa Bastoni
"Silver Line" - Bastoni & Staples