June 12, 2020 – Kim Moberg, Jim Trick & Grace Morrison

a free virtual event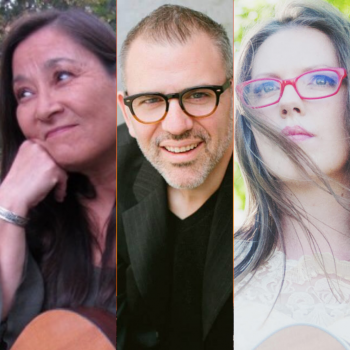 In our first foray into an online-only show, Kim Moberg, Jim Trick and Grace Morrison are the first to help us along. This free show, featuring three of the region's top singer-songwriters, will be an in-the-round virtual event, streaming live on our Facebook page and on YouTube. Though there is no admission fee, please tip our musicians. At this point in time, it's their only form of income! We look forward to having them back on a real stage next time!
---
Kim Moberg was born in Juneau, Alaska, the daughter of a classical pianist mother of Alaskan Native Tlingit descent and a US Coast Guard veteran father from Kansas. Music was the constant in Kim's childhood, helping her to adjust to the frequent moves associated with growing up in a military family.
At the age of 14, Kim began playing acoustic guitar on a borrowed nylon 6 string. A few years later, Kim taught herself to strum and finger pick to her favorite songs by singer/songwriters of the 1970's, but debilitating stage fright kept her from pursuing her own dream of becoming a professional performer. In 2014, after a hiatus from music to raise her two daughters with her husband, Kim set out to overcome her stage fright and wrote her first song.
Kim's debut CD entitled "Above Ground", celebrates the achievement of her goal to bring her music out of the basement. "Above Ground", produced by Grammy nominated producer Jon Evans, was released worldwide in September 2017 to much acclaim in the Folk world with 2 songs charting on the International Folk DJ chart. Her single "In December" was released on the Hudson Harding Music compilation record "The Longest Night of the Year" and charted at #12 on the International Folk DJ charts. Kim teamed again with Jon Evans to record her sophomore CD "Up Around The Bend" which was released world-wide in December 2019.
---
Imagine an experience where an entire audience feels like they are connected to a conversation; whether thru his music or his words, Jim Trick brings a real life perspective, with an engaging and entertaining presence to the room. Joyful, sincere and magnetic are just a few of the words to describe Jim Trick.
As a child, he was bullied for choosing music over sports, for having a funny last name and for struggling with obesity. Through his experiences he delivers a blend of alternative folk, thoughtful pop, and spoken word. Influenced by Neil Finn, Bruce Cockburn, John Gorka and Charles Bukowski; Trick takes the acoustic guitar down a path of percussive, intricate, and ethereal ranges creating well thought out melodic support for carefully crafted lyrics.
Boston has welcomed Jim with open arms, as a frequent guest lecturer at The Berklee College of Music and as a solo artist. Jim was featured along side American Idol's Alex Preston, by Berklee College of Music for a performance entitled "An Evening With New England's top songwriters".
Jim performs regularly at iconic venues such as Club Passim, Godfrey Daniels, Cafe Lena, The Me&Thee Coffeehouse, Berklee's Cafe 939 and the New Moon Coffeehouse, just to name a few. He has shared the stage with Ellis Paul, Brooks Williams, Susan Werner, Martyn Joseph, Christopher Williams, Antje Duvekot, Vance Gilbert and John Gorka.
Everything you need", co-written with Christopher Williams, was recently released on Christopher's album "The City Makes the Man". Trick and Rachel Taylor co-wrote, "You Might Be Surprised", a song released on the album "Heartbreak is for Everyone", which was produced by Peter Hayes of Black Rebel Motorcycle Club.
His most recent release, Further From the Tree, produced by Michael Pritzl of The Violet Burning, was fully funded by his loyal fan base during a four week "Trick-Starter" campaign. The album features the song "A road called home" co-written with Nashville's Rachel Taylor. It depicts a recent trip in which Jim traveled 10,500 miles all over the United States, not knowing from night to night where he would sleep.
"I needed an epic adventure. In many ways, the song and trip were a line we drew in the sand in terms of how we want to live our lives going forward. In some crazy way, this album is propelling me into a truer version of life, steeped in freedom and satisfying a wild curiosity." – Jim Trick
As a touring member of Banding People Together, Jim also travels all over the United States using music and behavioral science to help companies create collaborative strategies and improve leadership.
---
If folk, roots, and Americana were on a Venn diagram, Grace Morrison would be squarely in the center. With a career that began as a backup singer for rock icons like Eddie Money and Joey Molland (of the band Badfinger), Grace has become a regular on the national festival and touring circuit.
She has won a number of prestigious awards including the Grand Prize of the New England Songwriting Competition and the WPRI Rhode Show Big Break contest where her music video was played on the season finale of American Idol. In 2019 Grace was selected to be an Official Showcase performer at the Southeast Regional Folk Alliance, an Alt. Official Showcase Performer at the Southwest Regional Folk Alliance, named a finalist in the Wildflower (TX) Festival performing singer-songwriter contest, and selected to perform in the Emerging Artist Showcase at the Falcon Ridge Folk Festival (NY). Her sophomore solo album "Reasons" was released on May 10thand debuted the # 2 Top Album on the Roots Music Report's Top 50 Contemporary Country Airplay Chart.
Kim's passionate and heartfelt vocals mesmerize listeners while her compositions and story telling tug at feelings of melancholy, heartbreak, healing and social consciousness.