Feb. 20, 2021 – Crowes Pasture + Doug Farrell, a split-bill livestream
This show will be performed live at MMAS's Black Box Theater in Mansfield, Mass., streamed to ShowTix4U.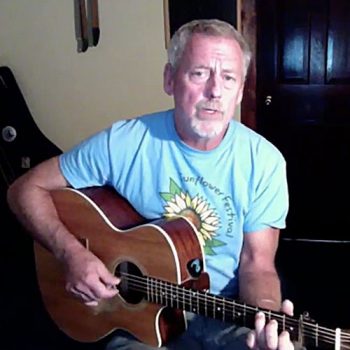 About Doug Farrell
"Doug's guitar work is flawless and his writing is poetic and heartfelt; filled with his experiences in life, in recovery, and the spirit of New England. His original songs will touch your heart and make you smile."
– Ken Arnold, Off The Square Coffeehouse, Keene, NH, Keene Sentinel.
"Doug's seasoned songwriting, storytelling, and musical melodies are deeply rooted in the hills of New England where he now lives. He moves his audience with warmth, humor, a smooth voice, and unpretentious musical vision. His witty observations and poetic engaging lyrics will leave you wanting more."
– Jeffrey Starrett, WOOL FM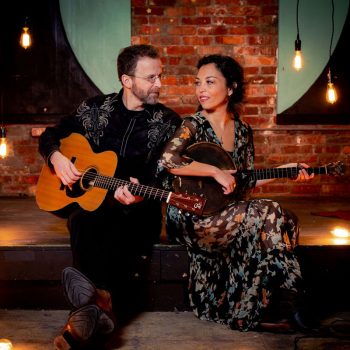 About Crowes Pasture
"New England banjo-and-guitar duo Crowes Pasture take their name from a wonderful Cape Cod beach in Massachusetts, USA. Monique Byrne and Andy Rogovin's album, Edge Of America is peppered with fabulous harmonies and beautiful instrumentation, and their sensitive songwriting weaves around the anthemic material of Dylan, Donovan and Cohen; it's pure Americana. FolkWales verdict: Thumbs up!"
-Folk Wales Online Magazine
"An uncanny blend of voices… the duo sound born to mesh their voices. His, a handsome, sandpapery timbre, and hers, angelic, with a lovely wilt."
– Bill Copeland Music News
Southern New Hampshire singer-songwriter Doug Farrell, the winner of the Rose Garden's 2020 Performing Songwriter Competition, has been plying and honing his craft throughout central New England since escaping New Jersey for the sanity of New Hampshire in the late 90s. Doug's songwriting is shaped by his artisan carpenter eye, the ear of a poet, and the heart of an artist. His songs, ranging from humorous to dark, are simple yet deceptively layered with nuance, wit, and substance that render them easy to hear and hard to forget.
Doug has been a finalist in the New England Songwriting Competition at the Ossipee Valley Music Festival, receiving an honorable mention for his song "Spirit Man." He has also earned first place in the New England Songwriting Competition at Dreamsicle Studio and at Simple Gifts Coffeehouse songwriting contest. He has been featured at songwriters-in-the-rounds, listening rooms, coffeehouses, benefits, festivals and concert stages throughout the region. He has appeared live in studio on numerous radio shows including NHPR's "The Folk Show."
You can also hear him in the acoustic band Decatur Creek with Jack Henry and Beth Eldridge (decaturcreek.com). Doug has recorded two full length solo releases of original songs to date, "Handyman Special" (2008) and "Spirit Man" (2019), both receiving terrestrial and internet radio airplay. You can hear many of these tracks and yet-to-be released originals at dougfarrellmusic.com. Several more of his songs can be heard with Decatur Creek's two releases, "Decatur Creek" (2015) and "Rising" (2018) also both garnering airplay.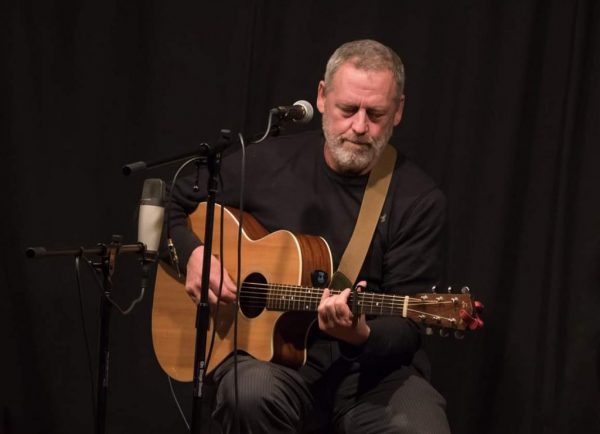 Monique Byrne and Andy Rogovin perform original music and eye-opening covers that reflect a mutual passion, sense of discovery and celebration of life. Their tightly blended vocal harmonies are mixed with an expressive instrumental style that is best described as "a banjo-guitar romance." Crowes Pasture's style of escapist folk transports and connects listeners through universal experiences in their "skillfully crafted, emotional songwriting" (Chris Eastburn, award-winning composer).
In just six years' time, Crowes Pasture has quickly made waves with two EPs and three full-length albums. Their latest CD, "Slow It Down", was released in June 2019 at the legendary Club Passim. Since its release, the title track earned Crowes Pasture a #1 song, and the album debuted at #5 on the International Folk DJ Charts. They also had a #8 song for their cover of Mary Gauthier's "Mercy Now," a #23 song for their cover of Bob Marley's "Is This Love," and they were the #8 Top Artist for June. 2019 opened some exciting doors as well for the duo; they were a supporting act for The Kennedys and The Small Glories, and performed at a number of renowned east coast music venues including Club Passim, Shalin Liu Performance Center, Rockwood Music Hall, The Bull Run, and Circle of Friends Coffeehouse. To round out the year, Crowes Pasture was honored with nominations as Roots Act of the Year in the New England Music Awards, and Americana Artist of the Year in the Boston Music Awards. 2020 didn't start out too shabby, either; Crowes Pasture was named finalists for Best Group/Duo in the International Acoustic Music Awards.