Feb. 18, 2023, 8 p.m. – Carole Wise / Cold Chocolate
a split bill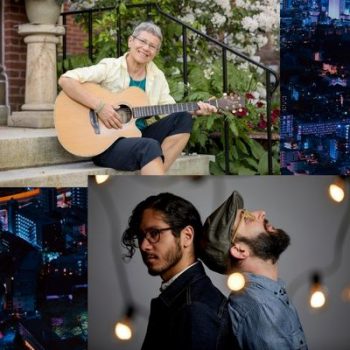 Our split bill features Maine singer-songwriter Carole Wise, the winner of our 2022 Rose Garden Performing Songwriter Competition, and Cold Chocolate, the Boston-based folk/bluegrass fusion duo of Ethan Robbins and Ariel Bernstein.
CAROLE WISE
Carole Wise is a singer/songwriter from Brunswick Maine. Her music is sweet and soulful, drawing on a lifelong passion for education, the beauty of the natural world, and the adventures of finding truth through life's challenges.
Carole Wise's new album, THE LONG WAY HOME, is a compilation of lyric and melody that grew from its creative seed: a calling of the heart. Listeners will connect their own life journeys home – to a physical space, self or new beginnings – in Carole's songs of gratitude and courage. Themes of nature, social justice, emotions and feelings infuse her songs with meaning: "The album is about our human journey and each song, a chosen path. On what journey will our paths cross?"
COLD CHOCOLATE
Cold Chocolate is a genre-bending Americana band that fuses folk, funk, and bluegrass to create a unique sound all their own. Featuring Ethan Robbins on guitar, Ariel Bernstein on percussion, and backed by some of the root's music scene's finest players, this group from Boston is impressing audiences throughout New England and beyond. Punctuated by tight harmonies and skillful musicianship, and with a focus on songwriting, Cold Chocolate has quickly gained recognition for their original music and high-energy shows. The band has shared bills with Leftover Salmon and David Grisman, and regularly performs at venues and music festivals up and down the East Coast.