April 16, 2022 – Bill Staines & David Mallett ~ Split Bill
A Special Event!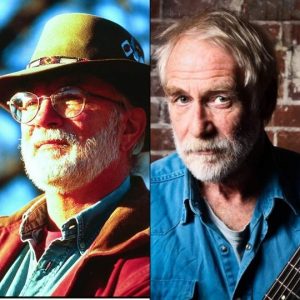 Two extraordinary veteran New England singer-songwriters come together for a split-bill show that promises to be one of the most exhilarating musical events we've ever experienced. Bill Staines's music is a slice of Americana, reflecting with the same ease his feelings about the prairie people of the Midwest or the adventurers of the Yukon, the on-the-road truckers, or the everyday workers that make up this land. David Mallett's songs are filled with passion, evocative imagery, and a sense of the inevitable passage of time. The struggle of the common man and the loss of American towns and landscapes are the subject of many of his songs.
If you don't see the box above to purchase $30 advance tickets, click here to buy on EventBrite.
Tickets at door: $35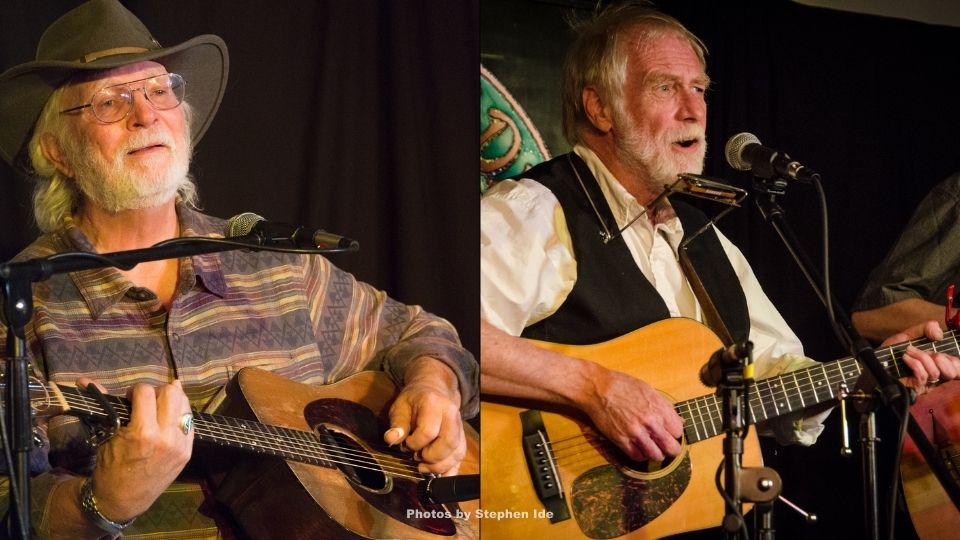 About Bill Staines
Anyone not familiar with the music of Bill Staines is in for a special treat.
For more than forty years, Bill has traveled back and forth across North America, singing his songs and delighting audiences at festivals, folksong societies, colleges, concerts, clubs, and coffeehouses. A New England native, Bill became involved with the Boston-Cambridge folk scene in the early 1960's and for a time, emceed the Sunday Hootenanny at the legendary Club 47 in Cambridge. Bill quickly became a popular performer in the Boston area. From the time in 1971 when a reviewer from the Boston Phoenix stated that he was "simply Boston's best performer", Bill has continually appeared on folk music radio listener polls as one of the top all time favorite folk artists. Now, well into his fifth decade as a folk performer, he has gained an international reputation as a gifted songwriter and performer.
Singing mostly his own songs, he has become one of the most popular and durable singers on the folk music scene today, performing nearly 200 concerts a year and driving over 65,000 miles annually. He weaves a blend of gentle wit and humor into his performances and one reviewer wrote, "He has a sense of timing to match the best standup comic."
"Bill Staines has been my hero since 1977. He carries on where Woody left off-carrying on the tradition of stories and characters you wish you knew." – Nanci Griffith
Bill's music is a slice of Americana, reflecting with the same ease his feelings about the prairie people of the Midwest or the adventurers of the Yukon, the on-the-road truckers, or the everyday workers that make up this land.
Many of Bill's songs have appeared in grade school music books, church hymnals, and scouting campfire songbooks; he is one of only a few songwriters to have eight songs published in the classic song collection, Rise up Singing. Composer David Amram recently described Bill as "a modern day Stephen Foster…his songs will be around 100 years from now."
Over the decades, you have heard Bill singing on Garrison Keillor's A Prairie Home Companion, HBO's award winning series Deadwood, and Public Radio's Mountain Stage. Additionally, his music has been used in a number of films including Off and Running, with Cyndi Lauper, and The Return of the Secaucus Seven, John Sayles' debut as a writer- director.
"Staines is one of the best songwriters in folk music today, penning lyrics that evoke a sense of place and a generous spirit to go along with his pretty melodies. – Associated Press
In 1975, Bill won National Yodeling Championship in Kerrville Texas. Another important recognition was given to him in 2007. Presented by the Boston Area Coffeehouse Association, The Jerry Christen Award recognized Bill's contribution to New England folk music.
Currently, Bill has recorded 26 albums; The Happy Wanderer and One More River were winners of the prestigious Parents' Choice Award, taking a gold medal and silver medal respectively. His songs have been recorded by many artists including Peter, Paul, and Mary, Tommy Makem and Liam Clancy, The Highwaymen, Mason Williams, Grandpa Jones, Jerry Jeff Walker, Nanci Griffith, Glen Yarborough and others.
As well as recordings, over 100 of Bill's songs have been published in three songbooks: If I Were a Word, Then I'd Be a Song, Movin' It Down the Line, and Music to Me, the latter published by Hal Leonard Corporation. His song, All God's Critters, has been recently released as a Simon and Schuster children's book with illustrations by Caldecott honor-winning artist, Kadir Nelson.
"His gentle lilting voice, spacious melodies and common-chord lyrics give his songs a homespun grace that often belies his mastery of the folk form. He is such a pure pleasure too, people forget to notice how damn good at the job of singer-songwritering he really is." – New England Folk Almanac
"Folk music is rich in the human spirit and experience. I've always wanted to bring something of value to people through my songs." With these thoughts, Bill continues to drive the highways and back roads of the country year after year, bringing his music to listeners, young and old.
In the fall of 2015 Yankee Magazine, New England's premiere magazine, published it's "80th Anniversary Issue." In the issue, along with the likes of Stephen King and Katherine Hepburn, Bill was chosen as "One of the 80 gifts New England has given to America."
A true honor.
About David Mallett
The cool breezes of Maine's northlands have flowed through the songs of David Mallett for more than four decades. His latest, Greenin Up, is a compilation of some re-recordings of his finest work. Released in conjunction with the Maine Farmland Trust, it is a celebration of rural life.
"Having grown up around country people and farmers, rural life has always been the wellspring for a lot of my best work," Mallett said. "I was glad to be able to put some of my best 'nature tunes' in one collection and help draw attention to and to support such a worthy cause as the Maine Farmland Trust, which essentially helps prevent valuable farm land from being turned into housing and strip malls. I've always wanted to revisit some of my old stuff, like 'April', and present a more 'seasoned' version of some of these songs."
Mallett includes three new songs — "Fat of the Land", "Dogs & Horses" and "Beautiful Rose" — along with re-recordings of his better known tunes like the American classic "Garden Song," "Summer of My Dreams," "I Knew This Place", "Good Times" and "April."
Greenin' Up is the culmination of a musical career that began when Mallett was eleven years old, playing in a country and folk duo, The Mallett Brothers, with his older brother, Neil. "We played everything from old songs like 'Carry Me Back To Old Virginny', which is the only song that my father ever sang," recalled Mallett, "to stuff that was on the radio, Johnny Cash to Peter Paul and Mary. to Sinatra. We had our own tv show in the sixties for a few seasons, made a few 45s and did a lot of nice shows. It was a great way to grow up in show business."
As an acting student at the University of Maine, Mallett discovered the music of singersongwriters like Gordon Lightfoot and Bob Dylan and soon began writing his own songs. "Up until that point, I thought of myself as a singer," he said. "In college, everybody that was singing also wrote. I realized that that was what I wanted to do. I was a theater major. I felt short-changed that I had to speak someone else's words. I felt that, if I became a singer-songwriter, I could sing my own words."
Honing his craft as a soloist, Mallett increasingly expanded his repertoire with original tunes. "When I was in my twenties, playing in bars," he remembered, "I would sprinkle in a few of my own songs. They blended in pretty well. By the time that I was 26 or 27, I was singing all my own songs."
A turning point in Mallett's career came in 1975, after he discovered that Noel Paul Stookey of Peter, Paul and Mary had moved to Blue Hill, Maine and was opening a recording studio. "That was back in the days when a recording studio was sort of like Oz," he said. "It was a foreign land. I wanted to see his studio, so, I called him up and said, 'Can I come visit?'" Within six months of their initial meeting, Mallett found a true mentor in Stookey. In addition to producing Mallett's first three albums, Stookey helped to bring his tune, "The Garden Song", to the attention of influential folksinger Pete Seeger who included it on his 1979 album, "Circles And Seasons." John Denver soon recorded the song and took it to the top ten in the adult contemporary charts in the late 70s.
"The Garden Song," recorded hundreds of times and performed around the world, has gone on to find its place amidst the lexicon of American folk songs. "It was never that big a hit," said Mallett, "never blared at you, ten times an hour, on the radio. It's gotten around but in a very human way, through the mouths of children, campfires and wedding ceremonies. I'm so proud to be associated with such a simple and beautiful thing.
"It's like every kid in America and a lot over the world learns my song at one time or another."
Touring the folk circuit for ten years and moving to Nashville in the late 80s Mallett continued to record and write new songs.
While in Nashville, with the help of veteran producer Jim Rooney, Mallett recorded a total of three records for Chicago-based Flying Fish Records and two collections for Vanguard and wrote songs recorded by Marty Stuart, Hal Ketchum, Emmylou Harris, Kathy Mattea, Alison Krauss and others.
Meanwhile his "Ballad of the St. Annes Reel" from his second album evolved into a folk classic played around the world. Since returning to Maine in 1995, Mallett has recorded two cds for Rounder / Flying Fish in the 90s and tour nationally Canada and in the UK. He has performed at Wolf Trap, The Kennedy Center, The Newport Folk Festival, Prairie Home Companion, among many notable venues.
He has released 5 cds on his own North Road label in the last ten years, including Artist In Me (acclaimed by Associated Press as one of the year's best records), Midnight on the Water (a live cd), The Fable True (in which he successfully explored the spoken word realm with his collection of Henry David Thoreau's stories about his visits to Maine in the mid 1800′s with instrumental soundtrack). His 2009 release, Alright Now, was proclaimed "a masterpiece" by the Boston Globe.