Feb. 22, 2020 – Andy & Judy | Kala Farnham

a split bill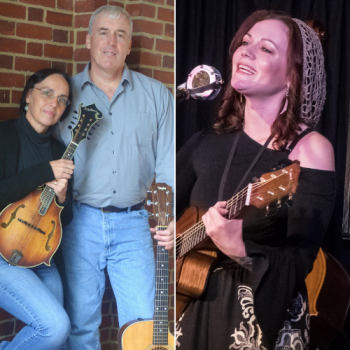 New England natives Andy & Judy Daigle have been singing together since 2009. They began writing songs in 2011. Today, this talented folk duo performs regularly at coffeehouses, festivals, libraries, and stages where they have been featured artists, openers and headliners. Andy & Judy do a masterful job of involving the audience in their performances. Armed with a voice, entourage of instruments, and faith in the power of story, songstress Kala Farnham set out into the world with one vision: To inspire through the transformative power of musical storytelling. Farnham, who won the 2019 Rose Garden Performing Songwriter Competition, has garnered numerous awards and recognition, and is an alumni of the Johnny Mercer Songwriters Project.
If you don't see the box above to purchase $16 advance tickets, click here to buy on EventBrite.
Tickets at door: $20
Andy & Judy tour through New England, the Mid-Atlantic, Midwest and Great Lakes Regions and have been featured on popular folk music radio programs. Their third album, Follow Your Dream, was chosen #1 Top pick for 2015 by Four Strong Winds (John Rumsey), KVMR Nevada City, CA.  This Old Town¸ their fourth album, was also chosen as a Top 10 pick for 2017 by Four Strong Winds, as well as being named a Top CD of 2017 by Nick Noble at WICN, Worcester, MA.
Andy & Judy feature sing-a-longs and smiles at their concerts. Their close harmonies blend Judy's evocative alto and Andy's deep baritone. Beginning instrumentally with a classic folk guitar base, Andy & Judy have deepened their sound through the addition of mandolin, banjo, piano, harmonica, ukulele, and with support musicians, bass, violin and percussion. The instrumental complexity presented on their five CDs, Riverbend, Dragonfly, Follow Your Dream, This Old Town, and Reflections, support the increasing lyrical depth of their compositions.
Even though their songwriting style has its roots firmly planted in traditional and folk music, the influences of country, gospel, blues, and bluegrass, can be heard in their songs. Historical people, places and events are common themes. Their songs are carefully crafted and performed so that the listener experiences all of the emotions woven into their music.
Kala Farnham's recent album, a heartfelt account of adventure and homecoming titled "Samadhi: Home Is Where You Are", was nominated for RI's Motif Music Awards "Best Americana Album", and hailed by Bill Copeland Music News as "soulful Americana" in "one of New England's best voices in one of this year's best written and best recorded works". Drawing from a classical education and professional career in musical theater, Kala presents hallmark reinvention of the folk tradition; Her passion for fairytales, ancient history, and vivid storytelling draws her audience into imaginative re-creations of the familiar world.