Welcome to the Rose Garden Coffeehouse
Since 1989 in Mansfield, Massachusetts, we have presented high-quality folk music at a reasonable price in a comfortable, intimate setting. We've just been named one of the top folk music venues in the country! Now in our 35th season! Shows typically start at 8 p.m. (unless otherwise stated).
NOTE: New start time this year is 7:30 p.m.
Doors open at 7 p.m.
Our September 2023 show has been cancelled (sorry). Other scheduled dates this year include Oct. 21, Nov. 18, Jan. 20, 2024, Feb. 17, March 16, April 20, andMay 18. As tickets become available, they will be shown below.
Buy Tickets Below:
AND THE WINNER OF THE
2023 PERFORMING SONGWRITER COMPETITION IS…
Erin Ash Sullivan
CONTEST FINALISTS: The three finalists for the May 13 show's Performing Songwriter Competition were John Coleman Bennett (Mass.), Peter Carriveau (Maine) and Erin Ash Sullivan (Mass.). Click here to read more about them!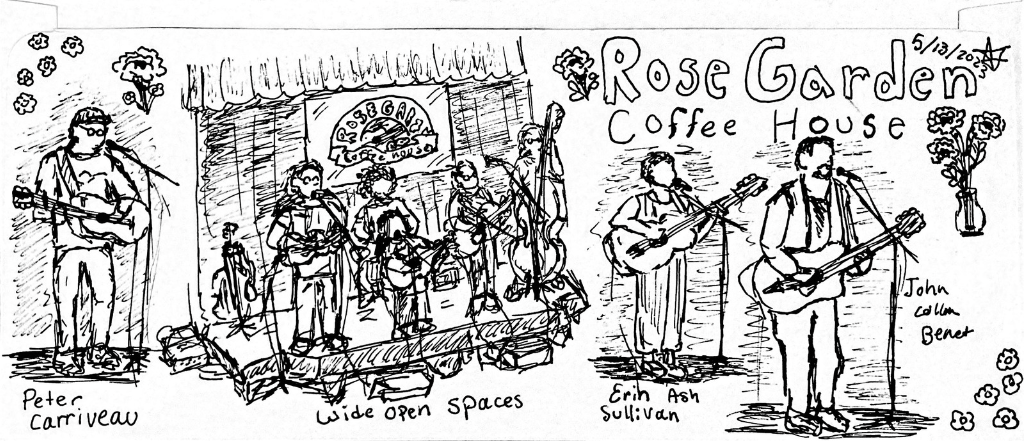 About the Rose Garden
An all-volunteer nonprofit 501(3)(c), the Rose Garden normally holds eight shows a year in the Congregational Church, across from the South Common in Mansfield. Come join us, have some coffee and homemade treats and listen to some of the finest music in New England.