March 12, 2022
Kim Moberg + Our 2021 Performing Songwriter Competition Winner
~ a split bill ~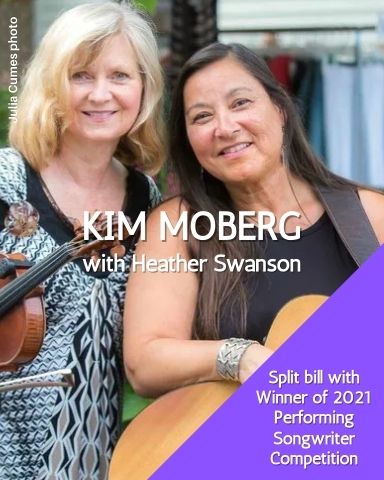 If you don't see the box above to purchase $20 advance tickets, click here to buy on EventBrite.
Tickets at door: $25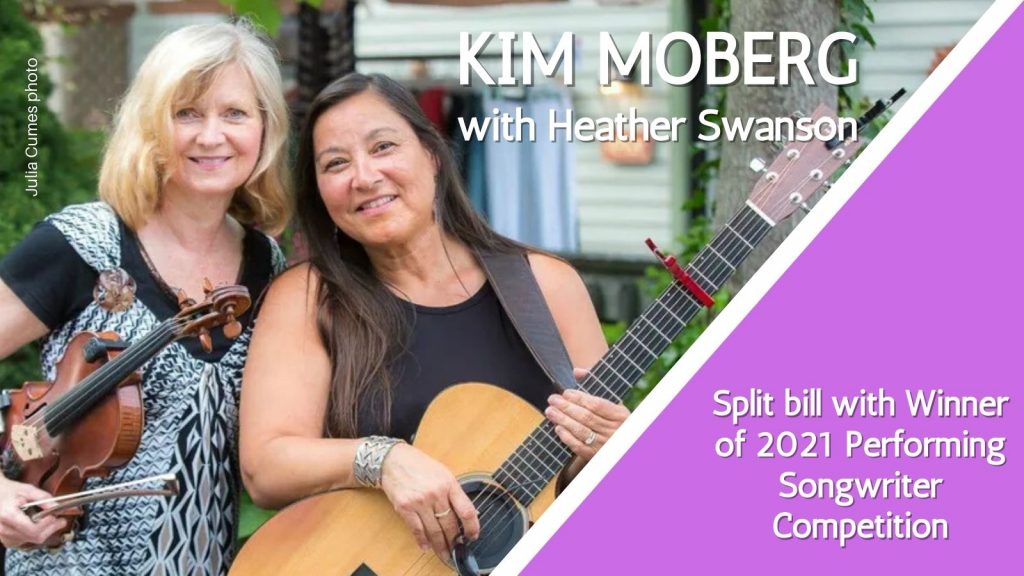 "Kim Moberg combines a lovely voice with a deep insight into the human experience.
Her songs evoke genuine emotional responses in the listener, as she carries on the acoustic folk tradition in the 21st century. " 
— Nick Noble, host of THE FOLK REVIVAL, WICN (Worcester Public Radio)
It is more than appropriate that Kim Moberg, who won our Performing Songwriter Competition in 2018, returns to split the bill with this year's winner, to be decided in September 2021. She'll be joined on March 19, 2022 by fiddler Heather Swanson.
Kim Moberg was born in Juneau, Alaska, the daughter of a classical pianist mother of Alaskan Native Tlingit descent and a US Coast Guard veteran father from Kansas.
Music was the constant in Kim's childhood, helping her to adjust to the frequent moves associated with growing up in a military family.
At the age of 14, Kim began playing acoustic guitar on a borrowed nylon 6 string. A few years later, Kim taught herself to strum and finger pick to her favorite songs by singer/songwriters of the 1970's, but debilitating stage fright kept her from pursuing her own dream of becoming a professional performer.
In 2014, Kim set out to overcome her stage fright and wrote her first song.
Kim teamed with Grammy-nominated producer Jon Evans to record both of her CDs. "Above Ground" celebrates the achievement of her goal to bring her music out of the basement and "Up Around The Bend" consists of 13 new original songs and one cover, Cliff Eberhardt's "The Long Road." Both recordings have received world wide airplay and critical acclaim, charting on the Folk International Folk DJ and NACC charts.
Kim's passionate and heartfelt vocals mesmerize listeners while her compositions tug at feelings of melancholy, heartbreak, healing and social consciousness.