March 13, 2010 ~ Northern Lights - The Final Show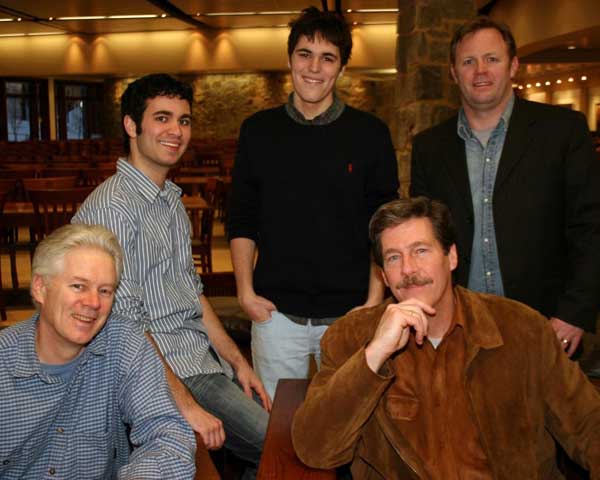 Northern Lights today includes (l-r): John Daniel, Mike Barnett, Eric Robertson, Bill Henry and Alex MacLeod.
---
Buy Tickets Now
$15, $13 (+$1.99 service fee) in advance


---
About the artists:
This is it. For more than 30 years, the New England musical group Northern Lights has presented their own style of bluegrass music that includes touches of jazz, classical, country, and even classic rock performed as only they can do it. All of that comes to an end on Saturday, March 13, at Mansfield's Rose Garden Coffeehouse as the group closes up shop and presents their final concert.

Slideshow: Click the play button in the lower-left to start the show:

It will be a bittersweet evening for the musicians, fans, and presenters, according to Rose Garden Artistic Director, Mac McLanahan. "Northern Lights has been an important part of the music we have presented at the Rose Garden over the past 21 years," he says. "Even though their band personnel has changed from time to time, their ability to combine the best traditional bluegrass with creative new arrangements has never wavered." Some of Northern Lights' well-known "alumni" will be on hand as special guests and will also perform. They include Taylor Armerding, Jeff Horton, Mike Kropp, Dave Dick, and possibly others.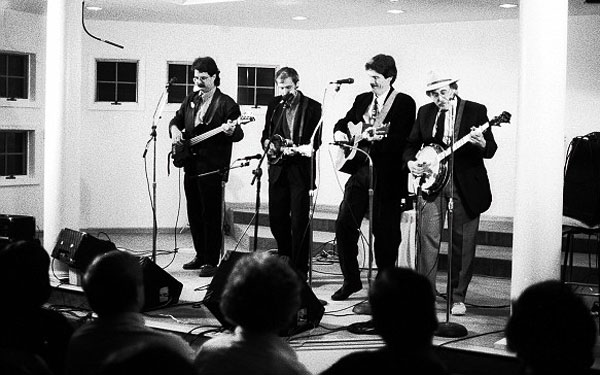 Northern Lights at the Rose Garden in the Baptist Church, 1992 ~ Photo by Stephen Ide
Although it will be a festive atmosphere, there is likely to be a lot of reminiscing. Lead singer and original band member Bill Henry says, "The band has been talking about this a lot. Ironically, it seems we are playing our best music ever right now and are having more fun than ever the closer we get to the final concert." About the breakup, Henry says they want to go out on top and just kind of got the feeling that the time was right.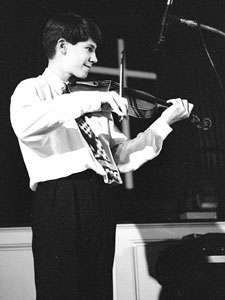 Northern Lights burst onto the musical scene in the mid-1970's and had its "coming out" gig, opening for Lester Flatt and the Nashville Grass at a show for the Boston Area Friends of Bluegrass and Old-Time Country Music. Through several fits and starts, the band hit its stride in 1986 when it traveled to Louisville, KY, to finish third in the Best New Bluegrass Band competition hosted by Kentucky Fried Chicken. Soon thereafter the band started to achieve national recognition with an onstage performance at the International Bluegrass Music Association. Following this, associations with bluegrass notables such as Peter Rowan, Alison Krauss, and Vassar Clements emerged.
In April, 1991, Northern Lights received the "Outstanding Country Act" award at the Boston Music Awards, the only bluegrass band nominated. The band also performed at the University of Rhode Island with folk legend Jonathan Edwards, doing both solo and joint sets, and another association was born. Through several changes in band members, original members Taylor Armerding and Bill Henry stayed with the group until Armerding left the group in 2003 to explore other musical opportunities. Armerding's son Jake played with the group for several years as a teenager and has since gone on to establish a highly successful international career as an independent singer/songwriter. Bill Henry remains the only "original" member (joining around 1982), but is surrounded by a group of talented musicians who have been able to maintain the hallmark Northern Lights sound.
If you've ever seen a Northern Lights show, or even if you haven't, we urge you to be at the Rose Garden on March 13 to see this landmark concert and to wish these guys the best of luck in their next endeavors. People are coming from all over for this, so we urge you to reserve NOW!

Northern Lights reunion show in 2006 ~ Photo by Stephen Ide