All shows start at 8 p.m. It's a good idea to arrive at 7:30, when the doors open,
to get your choice of the best seating!
2016-2017 SEASON
September 17 Jack Williams (opener Chris Pahud)
October 22 Monica Rizzio (opener Jim Trick)
November 19 Bill Staines (opener Kirsten Maxwell)
January 14 Split bill: Duos Night: Genna & Jesse / Neptune's Car
February 11 Split bill: Jennifer Kimball / Contest Winner Seamus Galligan
March 25 Annie & the Beekeepers (opener Mike Laureanno)
April 15 Joe Crookston (opener Ben Shannon)
May 20 Cliff Eberhart & Songwriter Finals
SEAMUS GALLIGAN
Winner of the 2016 Performing Songwriter Contest
Click for more about our contest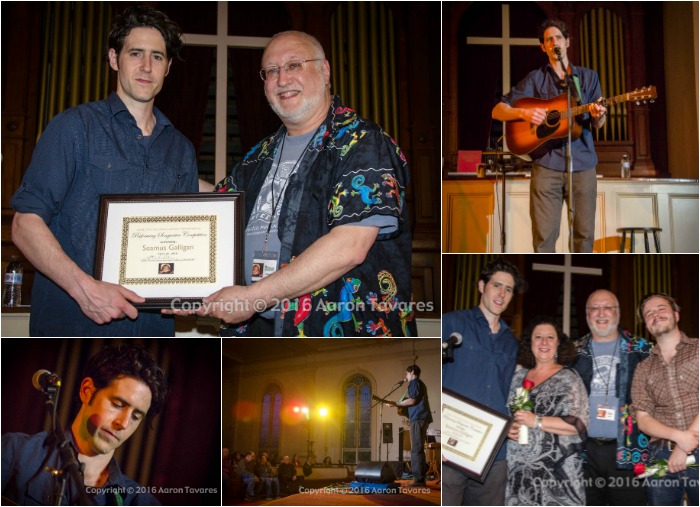 Photo collage © Copyright 2016 Aaron Tavares
Christine Lavin, our featured act for the night (with Don White)
produced this lovely video of the contest. Thanks, Christine!


Videos from recent shows ......
DAN WEBER, Feb. 6, 2016


AZTEC TWO-STEP, Jan. 16, 2016


ROOSEVELT DIME, Nov. 14, 2016

THE KENNEDYS: Oct. 17, 2015

MODERN MAN: Sept. 19, 2015

CONTEST: May 16, 2015, Christine DeLeon, Dan Weber, Tom Smith

LINDSAY LOU & THE FLATBELLYS, March 21, 2015

ZOE MULFORD, Feb. 7, 2015

LES SAMPOU, Jan. 17, 2015

MARINA EVANS, Jan. 17, 2015

PAUL RISHELL & ANNIE RAINES, Nov. 8, 2014